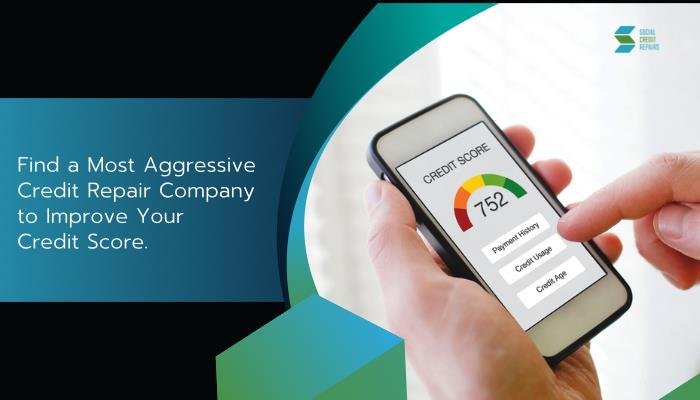 As you work to improve your credit score, you may consider hiring the most aggressive credit repair company to help you tackle the process. While there are many reputable companies out there that can help you, you may be looking for the most aggressive credit repair company to help you make the most progress in the shortest amount of time. Here are some considerations to make while you look for the ideal credit repair company.


Tips to Find the Most Aggressive Credit Repair Company


Research Your Options
Research potential credit repair companies for a while. The Better Business Bureau (BBB), consumer protection organisations, and online reviews can all be of use. Before making a choice, make sure to research a company's reputation and track record.


Ask Questions
While comparing different companies, enquire about their offerings, costs, and outcomes. Beware any organisation that seems evasive or won't respond to your questions.


Get Referrals
Ask someone you know who has utilised a credit repair company what they thought of them. Finding trustworthy services is frequently made easier by word-of-mouth recommendations.


Check for Licenses and Certifications
Reputable credit repair companies ought to be accredited, certified, and in possession of all relevant licences. Before making a choice, request to see documentation of these claims.


Look for Experience
Experience is crucial when it comes to credit repair. Seek for a company with at least five years of expertise in the industry, ideally one with decades.


Compare Fees
Comparing costs is crucial when choosing a credit repair company. While some businesses may charge a flat rate, others may provide cheaper upfront costs but charge more for further services. Prior to choosing, make careful to compare all charges.


Read the Contract Carefully
Take your time and carefully read the contract. Be sure you comprehend the entire agreement as well as any possible risks. Before you sign anything, be sure you are happy with the contract's conditions.


Most aggressive Credit Repair Company
First, it's important to understand that there is no silver bullet when it comes to credit repair. Legitimate credit repair companies can help you identify errors on your credit report and work with credit bureaus to have them corrected, but there are limits to what they can do. If your credit score is suffering because of missed payments or high levels of debt, a credit repair company may not be able to help you as much as you hope. You would require to Improve your credit score for availing the credit repair services.


That being said, there are certainly credit repair companies out there that take an aggressive approach to improving their clients' credit scores. What to look for in credit repair includes the following:


Experience and reputation
Look for a credit repair company that has been in business for several years and has a good reputation in the industry. Check their reviews on sites like Yelp or the Better Business Bureau to see what previous customers have said about their experience.


Pricing and guarantees
Be wary of credit repair companies that charge high upfront fees or make unrealistic promises about what they can do for you. A reputable company will offer transparent pricing and realistic expectations.


Credit monitoring and coaching
The most aggressive credit repair companies will not only work to correct errors on your credit report, but will also offer ongoing credit monitoring and coaching to help you improve your financial habits and make positive changes to your credit score.


Personalized approach
Beware of credit repair companies that use a one-size-fits-all approach to credit repair. Look for a company that will take the time to understand your unique financial situation and develop a personalized plan to help you reach your goals.


Clear communication
Make sure the credit repair company you choose communicates with you clearly and frequently. You should always know what they are doing on your behalf and what progress is being made.


Rundown
Ultimately, the most aggressive social credit repair company is not necessarily the one that promises the most dramatic results, but rather the one that takes a comprehensive and personalized approach to helping you improve your credit score over the long term. By doing your research and choosing the right company, you can take meaningful steps toward achieving your financial goals. At Social Credit Repair get the best consultation to improve your credit score.


Meta Description: If you are looking for the most aggressive credit repair company for your business, then you are at the right place. Read more to improve your credit score.
---