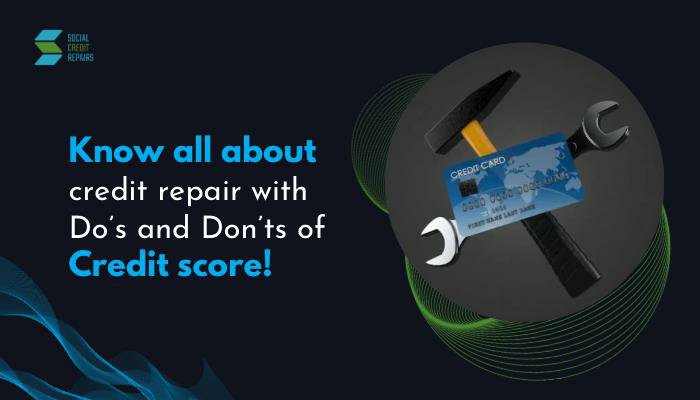 If you've lately been turned down for credit for any reason, you might be looking at a low credit score for a variety of reasons. You may have been late with your credit card payments, had an outstanding judgement against you, or been the victim of identity theft or fraud.
Whatever the reason for your score drop, you're certainly looking for solutions to get it back on track. Take your time! There are many dishonest opportunists out there wanting to profit from your urgent need. Don't be the next victim of a credit repair rip-off. There is nothing a credit repair firm can do for you that you cannot do yourself.
You're undoubtedly wondering how to separate the real activities you should be performing right now from the ineffective and expensive ones. There is no need to look any further! Our helpful credit repair dos and don'ts can get you started on the right track to increasing your credit score.
Do: Determine your actual credit score.
If a recent credit application of yours was declined, don't take it at face value; instead, investigate why it happened. Equifax, Experian, and TransUnion, the three major credit reporting companies, are each obligated to furnish you with a complimentary copy of your credit report once a year, upon request. You are entitled to a free report anytime a corporation takes unfavourable action against you, such as refusing your application for credit, insurance, or employment. To qualify, you must simply request a report within 60 days after getting notification of the action.
Do: Review your report and dispute any errors.
Examine your report for errors as soon as you receive it. If you notice any fraudulent purchases or incorrect information, you must challenge them in writing. Identify each thing you are challenging in your letter, as well as the reasons behind your allegation. Include copies of supporting papers and request that the inaccuracies be deleted or fixed. It is preferable to send your letter by certified mail to ensure that the credit reporting firm received it. Keep a personal copy of your letter, as well as all supporting documentation, for your own records.
You must also challenge the charge with your real creditor, following the same procedures as described above.
Don't expect any quick fixes.
As eager as you are to raise your credit score, keep in mind that there is no "quick cure" for creditworthiness. Improving your credit score involves time, effort, and the creation and implementation of a realistic debt payback strategy.
If you have a low credit score, you may be inundated with advertising literature from credit repair firms promising to raise your score by 100 points in less than a month. You are correct if you believe these claims are too fantastic to be true. There are some real credit repair firms out there, but as previously said, there is nothing they can do for you that you couldn't do yourself—and without paying their exorbitant price.
Do: Take steps toward fixing your credit.
If you've confirmed that your credit report is correct, you should examine the practises that may be contributing to your poor credit score.
Do you pay your credit cards on time? If you are frequently late, try setting up an automatic bill-pay system to ensure that you never forget to make a payment. Are you making progress on your debt? If you're paying your bills on time but still have debt, it's time to reconsider your spending patterns. Use debit or cash instead of credit cards when shopping. Look for methods to save money, such as couponing wherever feasible, organising meal menus around sale products, and finding free ways to relax instead of spending money at a restaurant or on shopping.
Are your monthly bills out of control? If you can't get through the month while still making all of your minimum payments, your debt may need to be restructured. Consider debt consolidation, which involves transferring your debt to a single low-interest account or a balance transfer to a card with an interest-free term. However, keep in mind that having a lot of open credit is not viewed favourably by creditors; cancel as many accounts as you open, but keep your oldest one active because it demonstrates a longer history of reliability.
Furthermore, no credit card is interest-free forever. When the promotional period expires, you may face higher-than-usual interest rates. You can also contact your creditors and work out a more acceptable payment schedule.
If none of these solutions appeal to you, consider increasing your salary and putting all the extra money toward debt repayment.
Don't expect to see any changes immediately.
Don't be concerned if you've made progress toward improving your credit but haven't yet witnessed an increase in your score. Creditors will only report to credit reporting organisations on a monthly or quarterly basis. It might take up to 30 days for your account to be updated and your score to increase.
Do: Ask us for help.
We're all about assisting you with your financial management. We can assist you if you are experiencing financial difficulties of any type! Stop by now to learn more about our credit counselling services and how we can help you create and stick to a budget. We even provide Personal Loans for Debt Consolidation, which allow you to consolidate your debt into a single low-interest loan, making the possibility of repaying your debt much more bearable.
What items can be removed?
We cannot guarantee that any item will be deleted from our clients' credit reports. Again, we may only remove entries that are erroneous, obsolete, or unverifiable, as are all legally compliant credit repair firms. Many items on most people's reports, however, may fall into one of those categories. Check out our results page for a list of items we've helped remove in the past.
How long does this service take?
We give an anticipated time frame for service to all of our clients. Clients often stay with us for 6 to 12 months. This is just the average time range for which participants opt to remain in our program. We aim to accomplish such objectives as quickly as feasible since we do not collect deletion costs until we obtain results.

We have a 98% success rate in boosting your credit scores by 40 to 100 points in 90 days or less if you follow our education and coaching plan!
How much will my score go up?
We just cannot know the answer to this question, no matter how much we want to. There are significantly too many variables in the credit scoring process, with the "human component" being the most important. We have no idea what you intend to do during this procedure. You may receive new lates, max out your credit cards, obtain new credit, get new collections, have a judgement made against you, or any of hundreds of other factors that could affect the outcome of your service. REMEMBER! Social Credit Repair is only engaged to help remove issues from your report that you want us to work on; the score change is just an unintended consequence of our service.
---