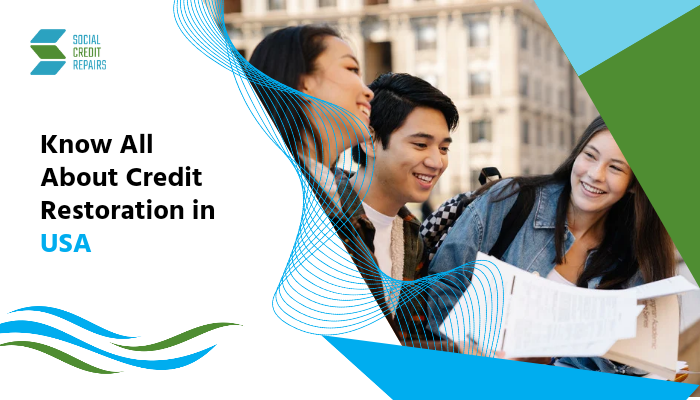 If you're struggling to raise your credit score, a credit restoration company in the USA is a viable solution. But what exactly is it, and does it actually work?
What is Credit Restoration in USA?
Credit restoration is a method of "repairing" or erasing some of your adverse credit histories in order to raise your total credit score. This is accomplished by contesting the information on your credit report.
You have the legal right to dispute any information on your credit report under the Fair Credit Reporting Act (FCRA).
The credit reporting agencies and your creditors then have 30 days to investigate and either confirm the accuracy of the information or remove the challenged marks until they can be validated.
If the disputed information is deleted, whether because it was truly erroneous or because the reporting bureau needs additional time to finish their inquiry, your credit score may potentially boost.
Does a Credit Restoration Program Work in USA?
If you have inaccurate information on your credit report, a credit repair business may be able to assist you in removing it. And, of course, if the incorrect information is lowering your score, this is a positive thing.
But what if your credit report is accurate and free of errors? The corporation may then go ahead and contest the unfavourable marks on your credit report regardless, depending on the circumstances.
If the reporting agency is unable to authenticate the marks within 30 days, they will be temporarily erased. The reporting agency will eventually finish the evaluation, at which point the bad scores will be put back into your report.
Is credit restoration in the USA legitimate?
Companies that claim to assist you in removing inaccurate information from your credit report are genuine. Companies who offer to raise your credit score by contesting legitimate blemishes on your record are not.
Credit restoration services are therefore legal, and if you're unsure how to rectify the problems on your credit report, you could be tempted to contact a credit restoration firm.
The problem with credit repair services, even legal ones, is that they are generally pricey and nearly always something you can do yourself. Before determining which course is best for you, you should consider the time, effort, and expense required.
It should go without saying that willfully disputing correct credit report information is a terrible idea. If your credit is suffering right now, concentrate on making wise choices that will help you rebuild your credit over time.
Past errors will have less of an influence on your credit score with time, and most bad marks will erase altogether after seven years.
Are Credit Restoration in USA and Credit Repair the Same Thing?
Yes, credit restoration and credit repair relate to the same thing. Both often entail paying a charge to have erroneous bad credit entries removed from your credit history in order to raise your credit score and establish a more positive credit history.
What do Legitimate Credit Restoration Companies in USA offer?
Credit repair businesses that are legitimate work on your behalf to correct inaccuracies in your credit report. They contact the three primary credit bureaus (Experian, Equifax, and TransUnion) or financial institutions (such as banks and collection agencies) to dispute only inaccurate, negative entries – not correct, negative ones.
A respectable credit repair agency promises to: A respectable credit repair agency promises to:
Legitimate services often charge you in one of two ways:
1. For each item successfully removed from your credit record.
2. Billing you for their goods over the preceding 30 days in exchange for a monthly payment.
Symptoms of a Credit Repair Scam in USA
While some credit repair organisations offer legitimate services, others use credit restoration scams to prey on susceptible individuals. To prevent falling victim to a credit repair scam, check for the following red flags:
• Requiring upfront payment: According to the Credit Repair Organizations Act (CROA), credit repair organisations are not allowed to charge you until they do the task they promised.
• Making promises they can't keep: If a company offers you a speedy repair, guarantees outcomes such as an A+ credit rating, or claims to be able to delete valid bad things from your credit report, they're making promises that are too good to be true — and likely fraudulent as well.
• Avoid direct interaction with the three main credit agencies (Experian, Equifax, and TransUnion): You have the right under the FCRA to seek credit reports and to contest inaccuracies with credit agencies on your own.
• Suggestions that you misrepresent information: Reputable credit restoration services will never ask you to dispute accurate credit information, provide false information on credit applications, or obtain a new credit report by applying for an Employer Identification Number rather than your Social Security number.
• Refusing to answer questions or clarify their services: An honest organisation should be able to identify the precise credit repair services they provide, inform you of their price, and explain your legal rights.
Can I Dispute Credit Report Errors Myself?
There is nothing a genuine credit repair firm can do for you that you cannot do for yourself for free. So, if you don't want to pay a charge to repair your credit, you may rectify problems in your credit report for free by following the instructions below.
1. Request your free credit report from annualcreditreport.com and review it for any anomalies or probable inaccuracies in your credit history that may be affecting your credit score. Under the FCRA, you have the right to a free credit report once a year.
2. Look for inaccuracies on your credit report. Transposed or erroneous identification numbers, balance problems, duplicate accounts, and incorrect reports of late payments are all examples of common reporting errors. You can also come across proof of identity theft and fraud.
3. If you discover any legitimate inaccuracies, file a dispute with the three major credit reporting agencies: Equifax, Experian, and TransUnion. You can file a complaint by phone, mail, or online.
4. Wait for a response from the credit bureaus. Credit bureaus have 30 days to finish the dispute procedure, although this does not always occur. If the credit bureaus determine that the information was incorrect, they will amend your credit report within 30 days.
If the credit bureaus determine that the information is correct, it will remain on your credit report. If you still feel the information is incorrect, you can refile your dispute with the credit bureaus or try to resolve the dispute by contacting the creditor directly.
Common Credit Report Errors in USA
When you analyse your credit report, you may discover information that is incorrect, missing, or not even about you. Keep a watch out for the aforementioned credit report mistakes:
• Mistakes in identity: Name, location, or phone number that is incorrect or misspelt
• Account status is incorrect: Closed accounts are shown as open; the same debt is mentioned more than once; accounts are mistakenly reported as late or overdue (or with false late payment dates); credit card accounts wrongly display you as the owner instead as an authorised user.
• Inaccurate balances: Accounts that have incorrect current balances or credit limitations.
• Mistakes in data management: Reinsertion of inaccurate information after it has been erased or repaired; accounts showing several times with various lenders or creditors listed
Should I use a legitimate credit restoration company in the USA?
Credit restoration organisations that are legitimate can help you rebuild your credit. If you are unsure about handling the credit repair procedure on your own, it may be worthwhile to hire a credit restoration firm.
Before employing anybody, get aware of credit repair scams and check the Better Business Bureau website at BBB.org to discover if any complaints have been filed.
Choose a credit repair firm that works within the law to assist you in removing inaccurate information from your credit bureaus and building a better credit history. But keep in mind that you do not require a credit repair firm to clean up your credit. You may do it yourself and save money by doing so.
Final Result
Credit restoration does not ensure that the consumer's reputation will improve. And even if it does improve, it may not last. A variety of events, including late payments, might cause it to plummet swiftly again.
What to Look For Before hiring a credit repair firm, verify their Better Business Bureau rating and read reviews on fourth review sites. While there are respectable credit repair organisations, there are also several credit restoration scams to be aware of.
---